When you throw away a pair of old shoes, trainers or boots don't throw away any removable insoles inside them. Keep the insoles and recycle them instead. Keep the old insoles in a bag inside your wardrobe and re-use them as and when you need to. I'm not suggesting you keep broken down and torn insoles, just keep the ones in decent condition. Also note it is really important to buy shoes the correct size in the first place but just occasionally you might want to change the fit by a millimetre or so by adding another insole or changing one insole for another.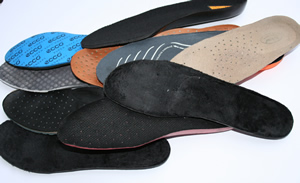 My "selection box" of insoles
I bought a pair of boots recently and changed the insoles in the boots for some from my "selection box". I took out the existing insoles from the boots that were 2 mm thick and replaced them with insoles that were 2mm thick at the heel end and 5 mm thick at the toe end. Then with my custom made orthotics on top (which I had always intended to use inside the boots) the fit was absolutely perfect.
I have also put some substantial insoles from my "selection box" inside my wellies I wash the car in. This makes them more supportive and more comfortable for the odd hour a week I wear the wellies and they also help to keep my feet warm by having another layer underneath my feet. There is nothing as cold as wearing cheap old wellies in the winter, well maybe wearing nothing would be colder than wellies but that's not even worth thinking about for my cold feet even in the summer.
Have a go yourself. Don't just keep the existing insoles in the shoes or boots just because they were the ones in the shoes when you bought them. Move them around and see if you can make slight adjustments to make your shoes even more comfortable.
Tip: don't cramp your toes by putting extra or different insoles in shoes that haven't got room for them.
Tip: it's not usually a good idea to have different thicknesses of insoles left to right as this will cause backache for most people. Select a matched pair of insoles for your shoes