If your baby has an ingrown toenail:
Soak your baby's feet in warm salt water 2-3 times a day
Use loose fitting socks or nothing
After soaking or a bath try to very gently lift the toenail
After soaking or a bath try to very gently squeeze any pus out
Trim regularly
Your doctor might prescribe a topical antibiotic cream, or systemic antibiotics in extreme cases
Photos of Ingrown Toenails in Babies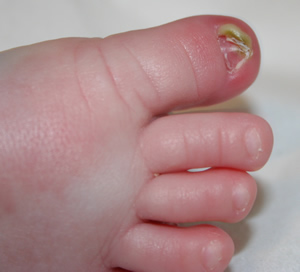 Baby now 6 weeks old and taking antibiotics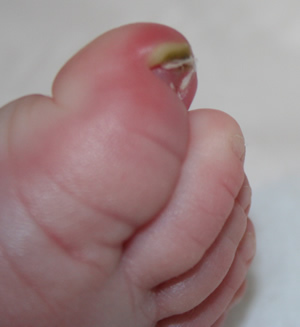 Ingrown toenail – baby 6 weeks old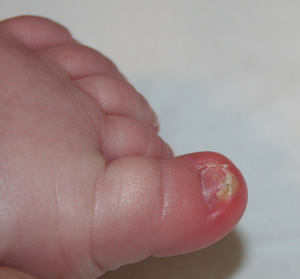 The baby was born with a film of skin over both big toenails. The advice from the doctor was "don't worry, just keep an eye on it". However the tissues became red, swollen and inflamed. At 5½ weeks old the baby started on flucloxacillin. The photos were taken 2 days after the start of the antibiotics.