Contact dermatitis is very unpleasant especially when your hands or face are affected. The irritant in this case was a common household cleaning product called Cif (formerly known as Jif). Exposure was accidental from a kitchen towel that had been used to wipe a worktop with Cif, then soon after used to dry hands.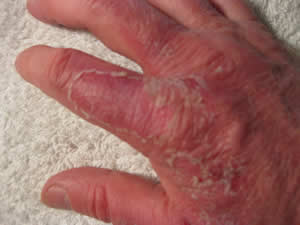 An excellent example of Contact Dermatitis – this can affect any part of the body
"My first sensation was mild tingling and a feeling of stickiness on my skin and stiffness when curling up my fingers. After a few minutes redness and stinging developed. By then it was too late to wash off the chemical. Swelling followed which lasted several days. There was an unusual sweet smell from the skin, like honey."
The progression was similar to sunburn with separation of the outer layer of skin, blistering and then peeling of dead skin. Burning and itching were much worse in the sun and in this case photosensitivity lasted a further year. Once sensitised to a certain chemical very small amounts can cause future problems.
Signs and Symptoms which normally develop fairly quickly after contact with an allergen
red, itchy and swollen skin
inflammation
rash
scaling and blisters
flaking and cracked skin
dry chapped skin
burning or stinging
Best treatment is prevention
If you know what irritates you don't let your skin touch it